See also: Category:Black Cats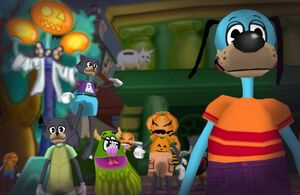 A Black Cat is a special Halloween treat given exclusively to cats. This special color can only be obtained on October 31st by interacting with Flippy in the Toontorial using the SpeedChat phrase, "Toontastic!".
Trivia
Black Cats were first released on October 31, 2013. On that day, Flippy offered Black Cats as his very first campaign for the Toon Council Presidential Elections.
Flippy is the only NPC who offers Black Cats.
Cats are the only Toon species that can become black. They are also one of the only two species that can obtain a special color, alongside bears.
On June 13, 2014, Flippy offered Black Cats to give the newer Toons a one-time opportunity to celebrate this special occasion outside of Halloween. The date was known as Friday the 13th, which is believed to be a symbolism of bad luck.
Black Cats could be made by visiting Flippy inside the Toon Hall up until 2017. Since then, Black Cats can only be made from the Toontorial, which was the original method used in Toontown Online.
Gallery
Gallery
The Toontown Rewritten Wiki has a TOONTASTIC collection of media related to Black Cat. Feel free to take a look!
Community content is available under
CC-BY-SA
unless otherwise noted.