Outdated Content
As the clock continues ticking and time runs by, things may start to become irrelevant within Toontown Rewritten. This page seems to have information on content that had been removed from Toontown.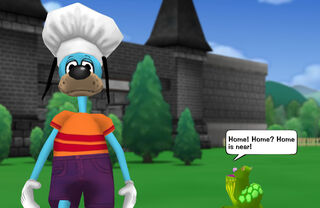 Barbecue Headquarters was an April fools prank made by the Toontown Rewritten Team during April Toons' Week[1] that made all the Toons think Bossbot Headquarters was finally discovered. Instead, the tunnel lead to ToonFest 2014 renamed Barbecue Headquarters. The tunnel to Barbecue Headquarters looked exactly like the tunnel for Bossbot Headquarters.
Trivia
Barbecue Headquarters is abbreviated BBQHQ. The only difference between the abbreviation for Bossbot Headquarters and Barbecue Headquarters is that they just added the Q into Bossbot Headquarters (abbreviated BBHQ).
Flippy was wearing a Chef's Chapeau at Barbecue Headquarters, which is why he was most likely known as the C.H.E.F. He also had his pet doodle, Fluffy, with him.
Fluffy said things like ' I can smell them! They're coming soon! ' which lead many people to believe doodles were coming soon.
Gallery
References
Community content is available under
CC-BY-SA
unless otherwise noted.