Outdated content
This page contains information about content that once existed but had been removed from
Toontown Rewritten
, or was likely scrapped at some point in development due to being deemed unfit for the game.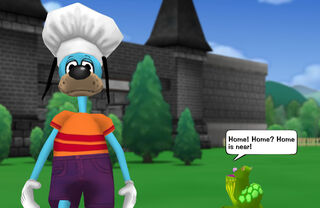 Barbecue Headquarters was an April Fools prank on April Toons Week in 2015 when Flippy announced that he supposedly discovered an area known as "BBQHQ".[1] This led Toons to believe that Bossbot Headquarters would be arriving. Instead, the dark charcoal tunnel led to the "ToonFest Grounds" but renamed as Barbecue Headquarters.
Trivia
"BBQHQ" is similar to the the acronym for Bossbot Headquarters which is "BBHQ".
Flippy was wearing a Chef's Chapeau at Barbecue Headquarters, which is why he was most likely known as the "C.H.E.F.". He also had his pet doodle, Fluffy, with him.
The above blog post image reveals Fluffy sensing that home was near, which likely hinted that doodles were nearby. When doodles were released on April 10, 2017, it became apparent that Doodlevania is located just off the outskirts of where the Cartoonival Grounds is.
Gallery
References