Attention all users!
This article contains information about the meta of Toontown Rewritten. Please be wary while reading as there are spoilers of characters, plot, and storyline.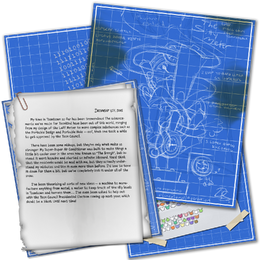 The development of Toontown Rewritten included an ongoing Alternate Reality Game (ARG) filled with mysterious blueprints, encrypted clues, puzzles, and development previews. The Toontown Rewritten Team frequently revealed clues relating to the storyline, in a wide variety of media formats. Some were riddles, others were encrypted messages, sometimes hidden clues were even found in images on the TTR website. Over time information was put together collectively, and many fan theories spurred from different possible ideas. The ARG is ongoing, and we're still not entirely sure what all of it means.
Pre-Alpha Build Up
With the coming of alpha, Joey19982 began to hint at a new story line within Toontown Rewritten. The staff then began to release segments of images, of which the players speculated to be something of importance to the release of the game. Eventually the players realized that the pictures being shown were all part of the same, larger image. Speculation then began on what significance the monkey, and the rest of the image, had to Toontown Rewritten.
The Second Quest
Regular changes in Joey's user title on MMOCentralForums lead to many guesses by the player population. Eventually the group of puzzle solvers came to a consensus that the puzzle was Gyro Gearloose's lab, and that the assumption was that the orange monkey was indeed Doctor Surlee.
Alpha Testing Begins
The clues and puzzles ending on the image of Doctor Surlee in Sellbot Headquarters with the machine that created the Cogs behind him was a major cliff-hanger, and hundreds of theories were posted on the forums between the discovery and the announcement of Alpha. The second discovered image appeared again in A Big Surprise All 'Fa You!. The blog post marked the start of Alpha testing, Daily Alpha Updates and Super Saturday Updates. The very last sentence of the news post was "Time is ticking." which is a phrase Joey has used many times before in his forum posts on MMO Central Forums, including his first major clue post of the puzzle piece...
The 26th & Encrypted Messages
On November 26th, 2013, the next big clue was released. A long, and extensive puzzle had begun. The Toontown Rewritten staff began to release new puzzles, in the form of blueprints, ciphers, and other cryptic forms of communication. The community had to work to decode these blueprints to uncover more about the Toontown Rewritten story.
October 28, 2013/1998: The Launch of Alpha
On October 28, 2013 03:45 PM, the Toontown Rewritten staff began their initial Alpha Testing phase. This included a blog posting, with an image of Doctor Surlee holding a gauge. It began what was to become the many speculations that Toons would make about the story of Toontown Rewritten.
November 26, 2013: null (CONFIDENTIAL)
January 26, 2014: Emergency Monitor Broadcast
January 31, 2014: Sir Max Speaks in Morse Code
February 26, 2014: Manual Transmission
March 26, 2014: Call Log (3-26 19:40)
April 26, 2014: To Whom it May Concern
May 26, 2014: Emergency Memo from Doctor Surlee
June 26, 2014: Doctor Surlee's Diary and Bypasses
July 26, 2014: Resets No More for ToonTasks!
August 26, 2014: We are the 26th.
September 26, 2014: The Unknown Mine at ToonFest
October 26, 2014: Spooktown
Sir Max angered Jack O' Kazam by selling all his accessories via Clarabelle's Cattlelog. To get revenge on Sir Max and all the Toons who knowingly bought his accessories, he put Toontown under a spooky curse. Any Toon who goes Trick-or-Treating at all 6 participating shops would be put under the Pumpkin Head curse. The Halloween festivities lasted from about October 26 to November 1st. Jack O' Kazam is the only known wizard who haunts Halloween.
This update was not posted on the 26th and did not have particular significance to the overall ARG. However, there can be a possible chance that Jack O' Kazam may somewhat be related to the storyline.
November 17, 2014: Bah bop BWAH!
November 26, 2014: Our Pleasure to Return
December 24, 2014: Something Big is Coming
The Christmas event began with a special addition on Toon-torial street. When a Toon exited Tutorial Tom's shop, after fighting the Flunky, they would be presented with the ability to speak to Doctor Surlee.
The big hint that Doctor Surlee said on Toon-torial street was[1]:
Slappy lives...
And we're going to save him.
The Christmas event wrapped up on the 26th, with the second annual Great Snowball Fight. This was originally an event ran by Slappy, and so it has significance to the overall Toontown Rewritten storyline. No new puzzles were released on this date.
January 26, 2015/2004?: Team LHAAFBBHQ
On January 26th, 2015, the Toontown Rewritten team introduced a comic to their storyline. Team LHAAFBBHQ was to search for Bossbot Headquarters. These toons, hired by the Toon Resistance, went through a series of adventures over multiple weeks.
Notes and Thoughts
The front image of the Introducing Team LHAAFBBHQ blog post[2], its URL says "january26tobeexact". This little clue may or may not be just talking about the first scene of the mini-comic where there is a piece of paper saying "January 2004".
LHAAFBBHQ is an acronym for "Let's Hunt Around And Find Bossbot HQ".
"Operation: Duck Hunt" was mentioned in the mini-comic.
April 18, 2015: Knock Your Socks Off
On April 18, 2015, Joey19982 went on the IRC to answer questions. Specifically, he spoke to the various questions players had after he changed the IRC topic to "OMG! Check out the blog at noon! (PST)". This snippet contains some of the questions Joey19982 answered on IRC.[3]
On April 18, 2015, ToonFest 2015 was announced, this time taking place in-game and in real life as well.
Notes and Thoughts
April 26, 2015: MINGLERMAIL Memo Management
Doctor Surlee told Team LHAAFBBHQ that "Something different" was coming (referring to Bossbot Headquarters).
The primary mention of this webpage was a reoccurring message on IRC, in the #toontownrewritten channel, in which various Toontown Rewritten staff would paste the link into chat.
The website was also mentioned on Reddit:
and on MMO Central Forums by Catstew:
Further Reading
References
↑ YouTube Video of Doctor Surlee's Conversation (by xDar1D): https://www.youtube.com/watch?v=SD52aFR3MXo&t=3m13s
Community content is available under
CC-BY-SA
unless otherwise noted.