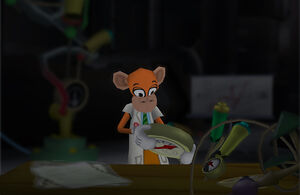 Alpha was the first development stage of Toontown Rewritten before Beta where only players with access to an alpha key could enter Toontown, which launched on October 28, 2013 and ended on April 20, 2014 with the Toon Council Presidential Elections.
Definition
Alpha (uppercase Α, lowercase α) is the first letter of the Greek alphabet. In the system of Greek numerals it has a value of 1. Β, β
In English, the noun "Alpha" is used as a synonym for "beginning", or "first" (in a series), reflecting its Greek roots.
Pre-Alpha
Pre-Alpha was the very first version of Toontown Rewritten before the game was released for an actual Alpha test. At this point, only the staff members could play and test the game before releasing it to the public for Alpha testing. Sir Max uploaded a YouTube video showing footage of Toontown Rewritten Pre-Alpha.
Features
The content that was released in Alpha includes:
The content that was not released in Alpha includes:
Blog posts
Main article: News Blogs
The following list of blog posts was made to get readers "up to speed" on the events from Toontown Rewritten Alpha. All blog posts can be viewed on the Toontown Rewritten website, archived on a website called Wayback Machine, and found on the wiki page above. This list was made to favor blog posts that are fun to read.
Alpha progress
These blog posts revolve around updates that introduced content and bug fixes.
With the help of Doctor Surlee, Sir Max's idea of a new Trolley game called "Robot Thief" gains approval from the Toon Council.
Minnie's Melodyland opens to Toontown for the "first time." Strangely, Sir Max witnesses some deja vu vibes.
Sir Max reminds the Toontown community to give thanks on Thanksgiving, and discusses why Toontown Rewritten is a thing to begin with.
A strange blizzard occurs in Toontown as Christmas comes nearer.
Sir Max answers a few questions offered by the Toontown community.
Sir Max speaks morse code to avoid Fat McStink's "Improvaganza!"
The party grounds open up, and Fat McStink hosts his very own party that would come to be known as "The Greatest Party in the Tooniverse."
Paul the elephant escapes the Toon Headquarters and leaves "holes" (broken collisions) around fences in the playgrounds.
Sir Max gets ahold of a Loony Labs device that he uses to cause all sorts of wackiness for April Toons Week.
The 26th
These blog posts revolve around an anomaly known as the 26th.
Doctor Dimm visits Doctor Surlee's office to look for a sprocket, but accidentally bumps into a mechanical arm that activates a scanner to scan Doctor Surlee's blueprint of the Silly Meter.
Flippy visits Doctor Surlee's office to speak to him about his thoughts on the Toon Council Presidential Elections and notices a new security system implemented. Doctor Surlee's blueprint of the Portability Design is revealed.
Upon realizing that he left the Trolley-bots on default mode, Doctor Surlee notifies Sir Max to bring them back, but things go out of hand. Doctor Surlee's blueprint of the Manfacturing Machine is revealed.
"The Two" make their first appearance to address a memo from the Chairman.
Trivia
All Alpha Toons were deleted at the end of Alpha, but canonically, the Alpha Toons are still endlessly testing for bugs during Beta.
The Toon Council Presidential Elections was an event that concluded Alpha. The Cogs were introduced at the time to create Doomsday, thus releasing the battle system.

According to an ARG, Doctor Surlee's intention with manufacturing Trolley-bots for "Robot Thief" was to help Toons prepare for Doomsday.

Alpha lasted a total of 146 days from October 28, 2013 to April 20, 2014.
Community content is available under
CC-BY-SA
unless otherwise noted.