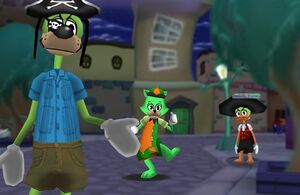 Accessories are special form of cosmetics that were released on October 18, 2014.[1] Toons can mostly purchase accessories via Clarabelle's Cattlelog, during special events, and in some cases, obtain accessories under certain circumstances like entering a code. These accessories include hats, glasses, backpacks, and shoes. While normal clothes are stored in a wardrobe, accessories are stored in an accessory trunk. As with clothes, accessories take an hour to arrive in a Toon's mailbox after purchasing them.
Accessory types
Hats
Hats are an accessory worn on a Toon's head, which often make them appear seemingly taller. Bows are a
Glasses
Glasses are worn on a Toon's face. Shades and masks are also included in this category.
Backpacks
This accessory category includes items worn on a Toon's back. Unique accessories such as bowties and scarves count as a backpack despite being worn in front of a Toon's chest and around their neck, respectively.
Shoes
Shoes are an accessory worn on a Toon's feet. There are many different kinds of shoes, including running shoes, boots, dress shoes, and loafers.
Availability
Every two months, the accessories sold in Clarabelle's Cattlelog change. See the following pages for more detailed information.
Trivia
Accessories apparently belonged to a vengeful wizard by the name of Jack O' Kazam until Sir Max stole them for Toons to purchase.
When a specific holiday event occurs, accessories representing the theme of that holiday arrive in Clarabelle's Cattlelog.
Many accessories from Toontown Online were originally unavailable due to decisions made by Toontown Rewritten staff claiming that these accessories "did not fit well with the art style."[2] Due to popular demand, the 2.0.0 update released on September 1, 2017 brought back majority of these accessories, some of which are retextured.
Gallery
See also
References