Alternate Reality Game
This page contains secret information regarding an ARG puzzle. The purpose of ARG pages is to keep Toontown sleuths up to date on the story of Toontown Rewritten.

Previous puzzle: Call Log
Next puzzle: Emergency Memo

To Whom it May Concern refers to the 142nd blog post from the Toontown Rewritten website with the same same title that was posted by ??? ("The Two") on April 26, 2014.[1] In past terms, this event occurred on April 26, 2003.
Story
This memo was unlike past clues, in that it did not require decryption. The blog post is presumed to be dialogue from unknown parties, often referred to as "The Two". The memo shows that the Chairman is congratulating the Cogs on their successful ambush marketing (the in-game "sales pitch" being the association of Doomsday with the Toon Council Presidential Elections). The Chairman then reveals that their corporations will soon launch on the streets and that Mover & Shakers will gain their own "quality office".
Blog post
To Whom it May Concern
Posted by ??? on April 26, 2014 02:50 PM
To whom it may concern: (And yes, that means you, Doctor.)
Shall we say who we are?
I don't think we even know who we are.
Fair point! Continue.
You may be - and have been - interested in the contents of this little memo. We would have given it to you directly, but you seem to have picked up on the ripple effect you caused and locked yourself away from it.
Are we not part of the effect, though?
I suppose we are.
So by running away, it seems he has simply created another ripple.
Interesting. How do you think that will play out?
The same way it always does. Show him the memo.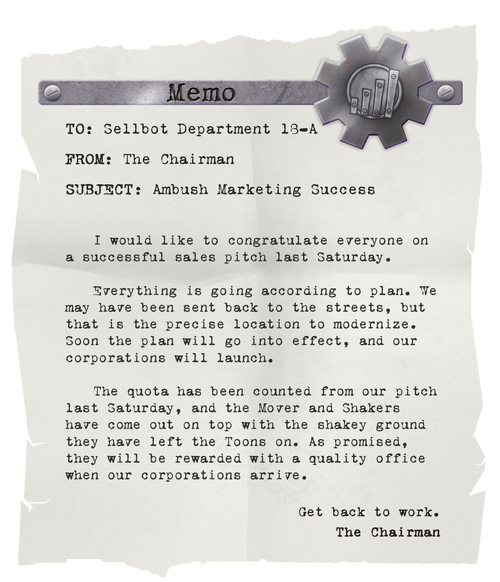 The ideas you "inspired" into the toons, Doctor, are not giving them as big of a head start as you would wish. You are merely speeding up what has already begun. We do hope that you know what you have gotten all of us into - and frankly, I'm sure that you do.
We'll see you next month. Perhaps we will have figured out who we are by then, though I wouldn't count on it. Time is ticking, after all.
Trivia
ttr://assets/this-ones-on-us.png is the URL of the memo.
Joey confirmed that there are two separate voices speaking in the blog post.[2] This also marks the first appearance of "The Two", but would not be the only time they make an appearance.
When "The Two" stated that their blog post was "to whom it may concern", they were referring to Doctor Surlee.
"The Two" uses the phrase, "Time is ticking". That is something said in multiple scenarios, such as the very first blog post from Alpha.[3]
Doomsday was a "sales pitch" for the Cogs and what they are.
References
↑ Wiki blog post • Official blog posts • MMO Central Forums • Wayback Machine • Memo from wiki • Memo from website
↑ A Big Surprise All 'Fa You! - "And remember: Time is ticking."
Community content is available under
CC-BY-SA
unless otherwise noted.